Class description:
Hatha Yoga - Level I- For Beginners:
If you've never practiced yoga before and wish to start now, there is no better way for you than joining this class which is especially designed for beginners and newcomers to get the rhythm, foundation and flow of the class. You will learn the basics, theory and techniques to practice Hatha Yoga. This includes: Proper breathing, Cleansing technique Kapala Bhati, Simple stretching and warming up exercise, Sun salutation, Simple postures and Relaxation techniques.
Hatha Yoga - Level II- Intermediate Class– General group class open to all:
This level is for those who finished Level I and for other Yoga practitioners (who would follow Hatha Yoga rules, please refer to Practice Tips). Not recommended for beginners.
Hatha Yoga - Level 3 - Advanced Asana and Pranayama Class - For advanced practitioners.
Challenging postures and advanced practice of Hatha Yoga. Those who felt the Level 2 class Ok, they can try the Level 3. Kindly no beginners or new comers.
Sivananda Yoga:
Sivananda Yoga is traditional Hatha Yoga. The class focus on the Chanting, Breathing, Sun Salutation , 12 main postures & deep relaxation.The five main principles are :
1. proper exercise (asanas)
2. proper breathing (pranayama)
3. proper relaxation (Savasana)
4. proper diet (vegetarian) and
5. positive thinking (Vedanta) and meditation (Dhyana).
Yoga for Kids: Yoga through fun. Improves their memory power, concentration, focusing etc for their total personality development.
Ladies only Classes: Advance booking required.
Pre-natal Yoga: Advance booking required.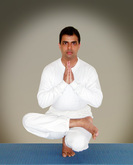 "Classic postures, when practiced with discrimination and awareness, bring the body, mind, and consciousness into a single, harmonious whole." - B.K.S Iyengar


---