in-house Retreat with Swami govindananda
MArch 29th - April 5th
Join us in this auspicious week for:

Weekend retreat: workshops & lectures
Morning & evening yoga classes
Workshop for yoga teachers only
​Weekdays evening course on Vedanta
Satsang & communal gathering​

​About Swamiji

Swami Govindananda Saraswathi has more than 30 years experience teaching Yoga and Vedanta philosophy. Swamiji is a gifted and charismatic teacher who has taught a few thousands yoga teachers. Much loved by his students for his unique style and humour, Swamiji is a rare jewel of integrity and truth, with disciples all over the world.

​A direct disciple of Swami Vishnudevananda, Swami Govindananda started his ashram life in Sivananda Ashram in Neyyar Dam, Kerala in 1987. Combined with his yoga teaching qualifications from the International Sivananda Yoga Vedanta Center, Swamiji holds degrees in Physics and Education, giving him a unique ability to dispense complicated philosophical teachings in an accessible manner, to be easily understood by people from all cultures and of all ages.

Swamiji is the founder and director of

Sivananda Yoga Vidya Peetham

(SYVP), where he runs several yoga teacher training courses and retreats. He travels the world meeting spiritual aspirants and sharing his Gurus' messages with seekers of knowledge.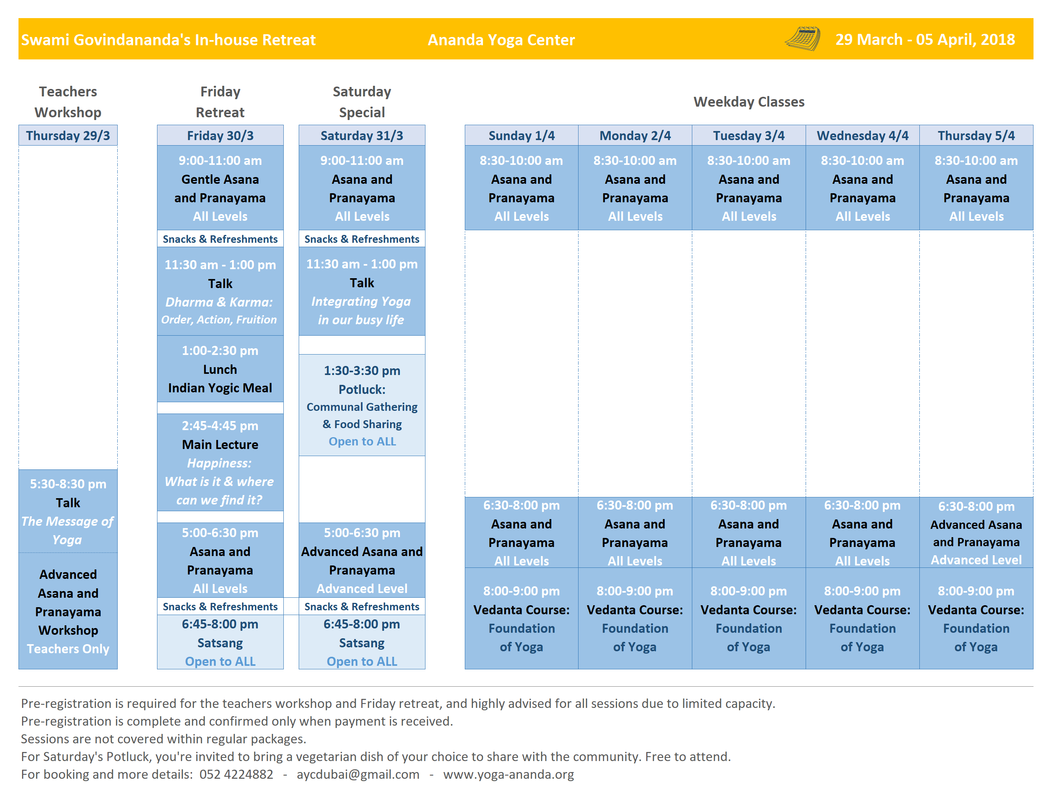 ---
​​Past events....
​
Yin- Breath And Connection With Amanda
March 9th 2018, 3:00-5:00 pM
Whether you are seeking to increase flexibility or reduce stress, or simply curious about Yin Yoga, this afternoon has the potential to benefit all.
This session of Yin and Breath will give you space and time to be with what is. Using props, we put our body into gentle shapes creating a sense of awareness, we resolve to be still, we hold for a longer period of time.
About Amanda:
Amanda comes from a Personal Training background.
To find herself settling into sitting breath awareness and Yin Yoga has been surprising and yet a very natural transition. A regular practice of Yin significantly reduces stress levels mentally and physically.
Come and be still with
Amanda Yoga
in this one off class, taking a moment to submerge.
---
---
the inversion trilogy
FEB 24TH 2018, 9:00 - 10:30 AM
In this workshop, we will explore the headstand - shoulderstand - and seated forward bend cycle, through physical practice initially. Each cycle will consist of 10-12 asanas followed by a short rest in Shavasana.

We will then seek to understand the importance of each parent pose and related benefits, and subsequently dive into the mythology associated with the asanas which will help us grasp their true essence and inner working. Participants will come back with a richer understanding of both the practical and esoteric dimensions of these supremely important asanas and how to weave them into their home practice.

An established practice is recommended with the ability to comfortably hold headstand or half headstand (with feet still on ground) and shoulderstand for 5 breaths each.